The curtains drew to a close on the 2019 Dodson & Horrell National Amateur & Veteran Championships held at Aintree Equestrian Centre in Liverpool (12th – 17th November) on Sunday evening. The six days of jumping saw a record high for entries and spectators had more than enough action to watch including fun classes in the evenings such as the Accumulator and pairs jumping. It was however the Championship Finals that over 400 competitors flocked for and six lucky combinations were crowned.
Anna Horrell, CEO at Dodson & Horrell, made the trip up to Aintree for Finals day and commented "What a fantastic week of competition it has been at the Dodson & Horrell National Amateur and Veteran Championships - with the largest entry of competitors to date it has been another great celebration of showjumping. We're committed to supporting riders and horses at all levels and are proud to sponsor the Championships for yet another year. We always enjoy being a part of this very special event, from watching the close competition in the ring to our team being on hand to help with attendee's nutritional feeding needs. Congratulations to all of the partnerships who qualified for the event and in particular to the worthy winners!"
The six Championships were all held under the Dodson & Horrell prefix and the results were as follows:
85cm National Amateur Championship
Georgina Beeson from Grindley in Staffordshire not only dominated the second round qualifiers leading up to the Championship but also dominated the final with Jazzy Footwork, a thirteen year-old Irish mare owned by Barbara Beeson. The pair fought off some tough challenges to claim the 85cm National Amateur Championship title.
A whopping sixty-three combinations qualified for the Championship Final on the final day of the show. Over half of the initial starting combinations made it through to the jump-off and fifteen went on to gain a double clear. Less than 2 seconds split the top three with Georgina rising to the top with her time of 31.39 seconds just a fraction ahead of Sophie Corney and Ocean Breeze II who crossed the finish line in 31.73 seconds.
Georgina was delighted to have the title under her belt, after her win she went on to say "I have had the horse for four years and this is our first Championship win. I feel like we have been knocking on the door for a long time. I came here with the aim of winning the Championship and I knew I had to go for it to win. I love the environment at these shows, it makes the win even better."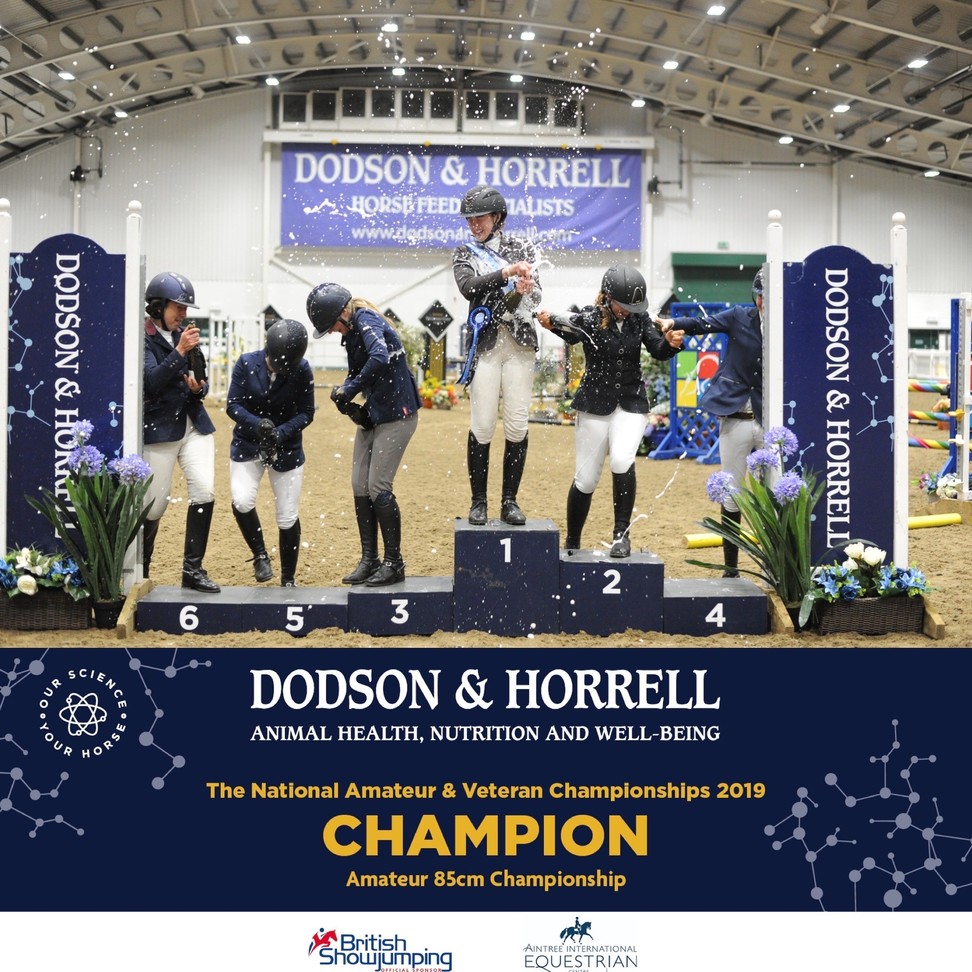 95cm National Amateur Championship
Lorna Simpson from Colchester, Essex claimed the 95cm National Amateur Championship title in the final class of the day on Sunday. Lorna piloted her own Zilver Bling, a 14 year-old grey mare whom Lorna has owned since 2015.
Fifty-three competitors came forward to the Championship Final with the hopes of being crowned the 95cm Amateur Champion and twenty-two kept their chances alive by pulling a first round clear out of the bag. Eleven kept a clean slate and the clock played a vital role for the distribution of placings. Lorna and Zilver Bling produced two foot-perfect rounds, stopping the clock in 32.59 seconds. The closest contest came from Jasmine Gill with her own Roundthorn Firebrand who finished in 33.81 seconds which was good enough for second place.
After her win Lorna said "I am so shocked. I have had the best week. I have had two horses here and they have both performed amazingly all week. Zilver Bling won the Qualifier on Tuesday and was placed in every other class. I really didn't think we stood a chance of winning so I kept telling myself to ride like normal and it seems to have paid off. We hadn't planned on jumping at the Championships but I won another qualifier on my other horse so we thought we would give it a go. I have travelled with my sister and we are both very pleased we came."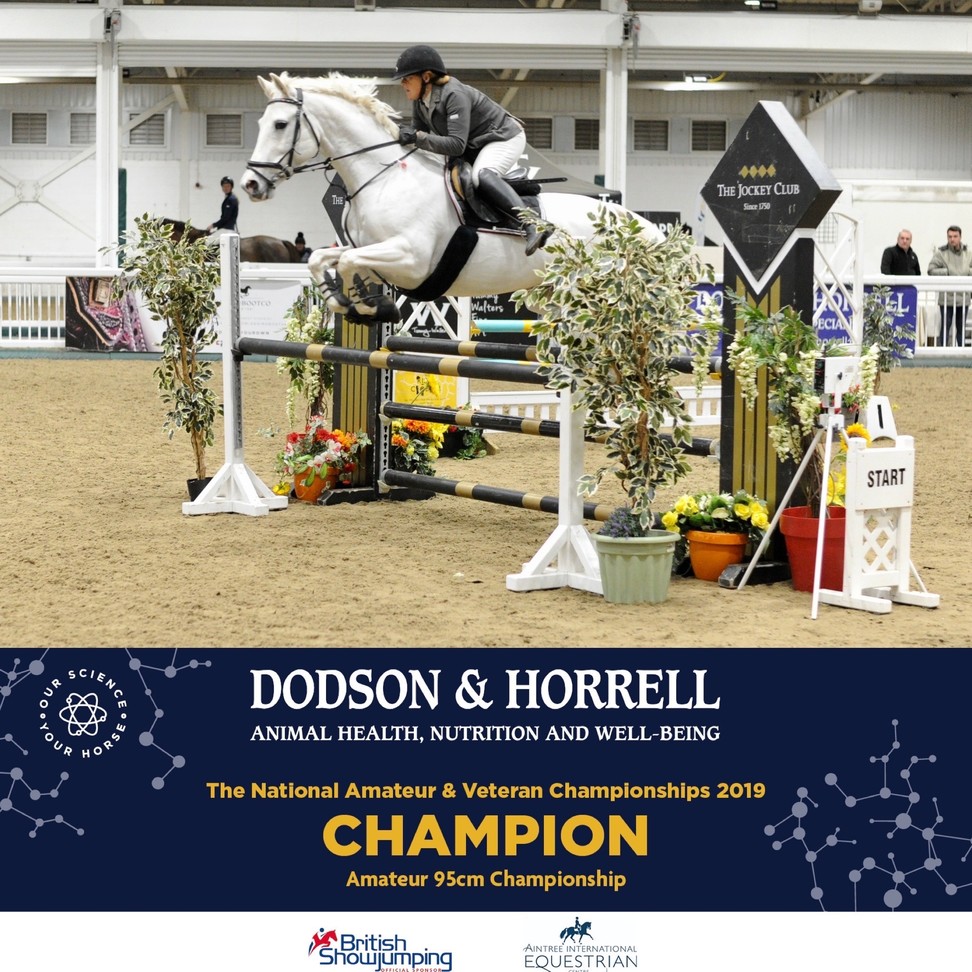 1.05m National Amateur Championship
Aintree Equestrian Centre proved to be a lucky venue for Macclesfield based rider Jenna Cairns who landed the 1.05m Championship with her own Wonderful III, a 16 year-old grey mare by Odermus R whom Jenna has competed for the previous five years. The pair won the Dodson & Horrell National 1.05m Amateur Second Round at the venue in October.
A large field of forty-five made it through to the Championship Finals on Sunday with twenty of those going on to produce a first round clear and six going on to pull another clear out of the bag. Just 0.43 of a second separated first and second place; Jenna's round of 36.45 seconds could not be beaten despite best efforts from Lucy Gilsenan and her own Qui Qui who finished in second place with a time of 36.88 seconds.
Jenna was thrilled to have gained a championship win and added "I have had Wonderful III, known as Jess at home, for six years. Last year we attended the CSI Amateur Show at Bolesworth and this year I am on a gap year to concentrate on my riding. I was fifth in this class in 2017 and determined to do better this time around. She has felt great all week, jumping double clear on Thursday and Friday. I managed to watch the earlier horses before my round and I knew I could rely on her to pull off the turns I had planned as she is so careful."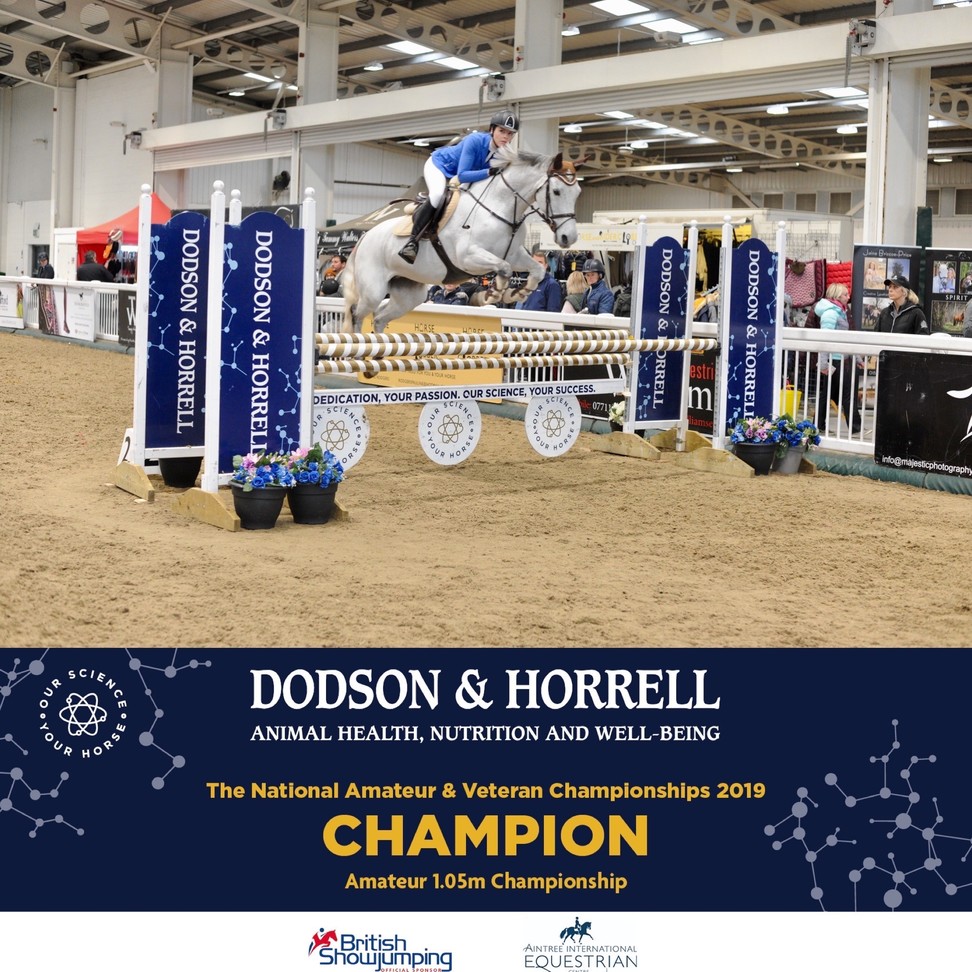 1.10m National Amateur Championship
Eighteen year-old Cerys Withey pulled off the tightest turns in immaculate fashion with Samantha Withey's Apart EA to win the 1.10m National Amateur Championship on Sunday. Cerys, who made the journey from Bexley, Kent, piloted the 14 year-old Dutch bred bay gelding known as Bryan at home.
Forty combinations came forward to take on the eleven fence track set by Course Designer Mark McGowan and sixteen made it through to the jump-off. Five combinations went on to produce double clears but no one could match the time set by Cerys and Apart EA of 32.52 seconds. Hannah Tiley came closest to the winning time with her own Amaryllis III, they stopped the clock in 34.65 seconds to take second place.
"I have been competing in the Bronze League this year alongside my day job in construction" said Cerys. "Bryan is always very fast but he's ultra-careful so I can trust him in a jump-off, I just needed to keep him in forward rhythm and complete the turns I had planned for."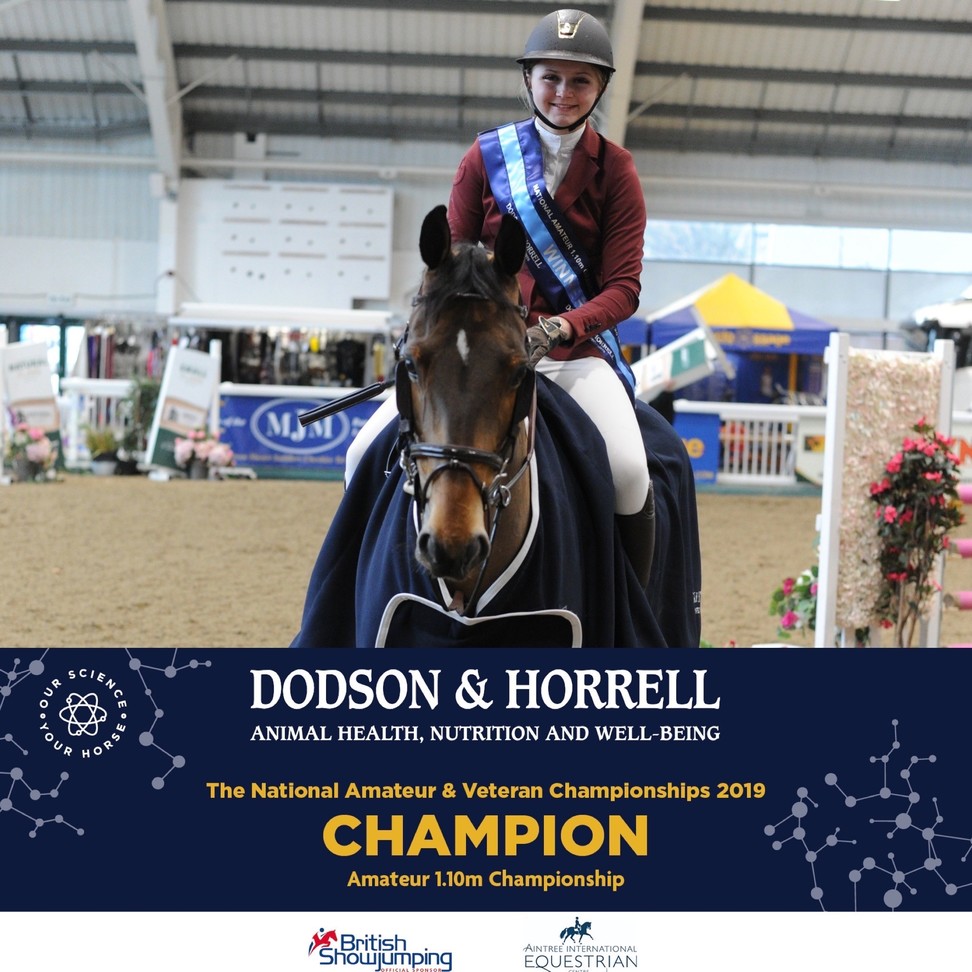 Minor Veteran Riders Championship
Mark Thompson from Findern, Derbyshire knocked his competitors out of the park after executing his silky smooth turns to take the win in the Minor Veteran Riders Championships with Michelle Yates' 12 year-old Chestnut mare Hunky Dory III, the horse who Mark steered to victory in the 1.05m Amateur Final in 2017.
The pair fought off thirty-four other competitors who were desperate to get their hands on the trophy but no one could match Mark's ultra-fast round of 34.02 seconds despite a strong challenge by runner up Joanne Fennell and Bantasia.
Mark was delighted to have picked up another National Championship title and said "I really enjoy this show, it's very well run and I always seem to do well here. I am so pleased to win the Championship and to go on and win the Accumulator straight after shows just how good she is. I've had Hunky Dory III for eight years and she really is Miss Consistent. I didn't come here expecting to win but I knew that if she kept up her reputation we would do well and everything seemed to go to plan."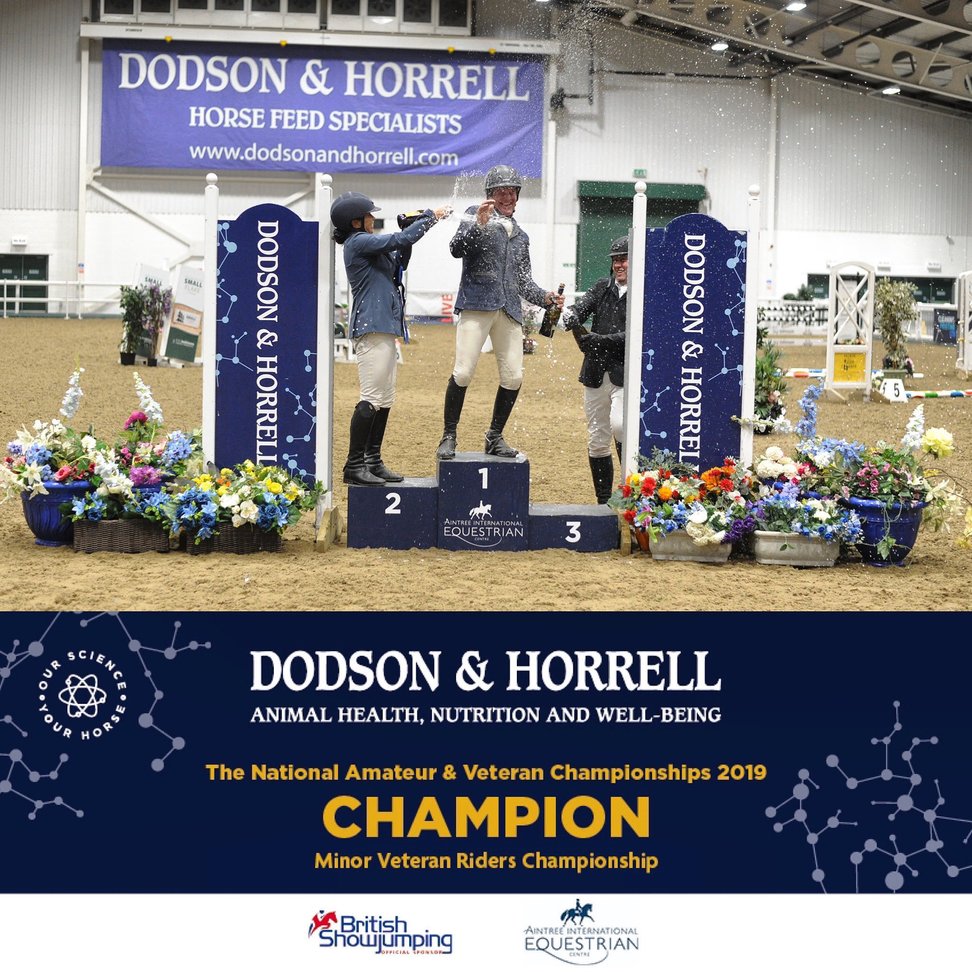 Major Veteran Riders Championship
Julia Hardy became the Major Veteran Riders Champion with her own 9 year-old Mista Blue, a British bred chestnut gelding by Je T'aime Flamenco whom Julia has produced from a 4 year-old.
Exactly half of the initial starting field kept a clean slate around the Mark McGowan designed 1.20m first round track to progress through to the jump-off. Only two combinations went on to complete with a zero score and it was Julia who came out on top after stopping the clock on 36.43 seconds, just 0.95 of a second ahead of Katherine James who took the runners spot with her own Herciro Vant Kiezelhof.
Following her win, Julia said "It's so great to win here and on a horse that I have produced myself from a just backed 4 year-old is really special. We had a bit of a challenging start to the week, my lorry broke down on the way so we have had to borrow my sister's lorry and travel up on separate occasions, but it's definitely worth it. He is such a wonderful horse, so easy to do in all ways, he deserved this win."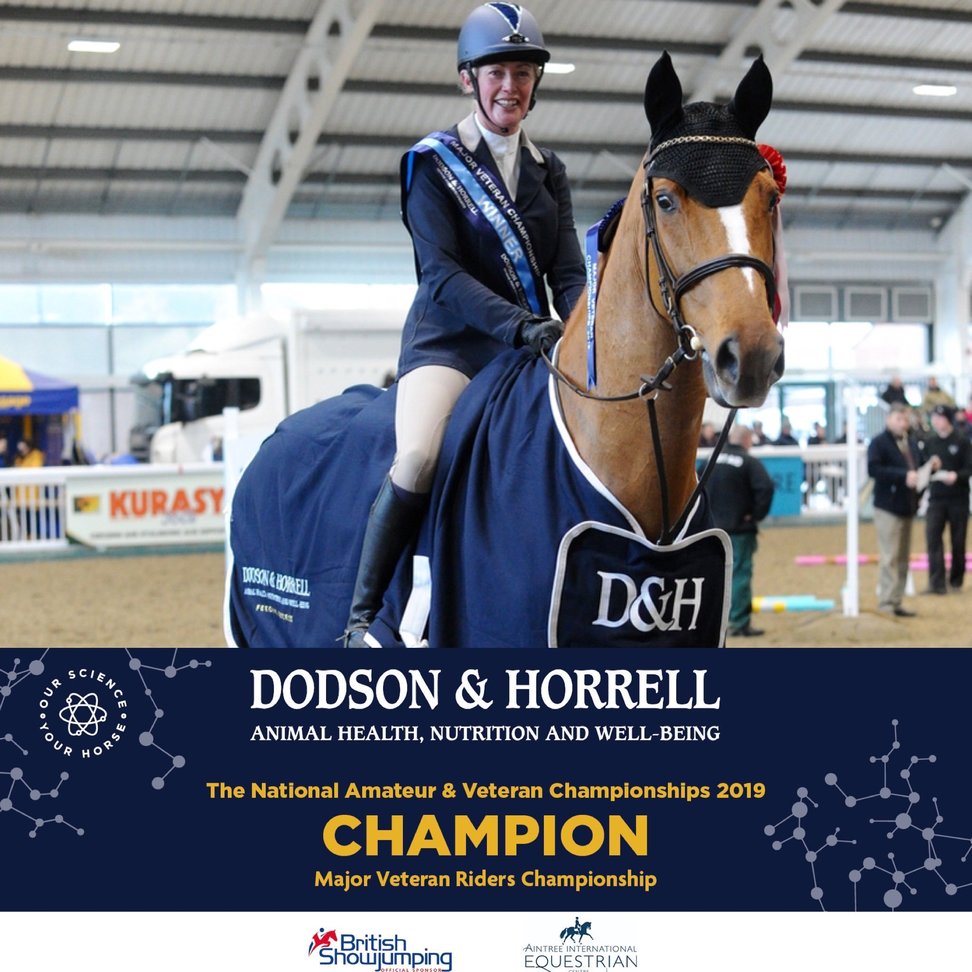 For a full list of results and further information about the Dodson & Horrell National Amateur & Veteran Championships, please visit www.aintreeequestriancentre.co.uk.
All images are courtesy of Majestic Photography