Information
Cooked barley and linseed supplemented with vitamins and minerals.
High in oil and protein for weight gain, condition and top-line.
Easy to feed, no-mess rings that can be fed dry or soaked to make a highly palatable mash.
Scientifically balanced to correct the natural imbalances of barley, unlike traditional mashes.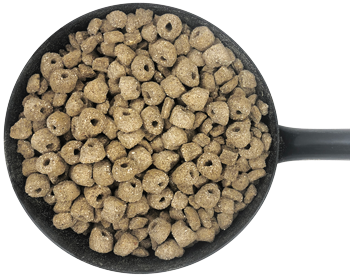 Feeding Guidelines
1 level Stubbs Scoop approximately contains: 1.2kg/2.7lbs
Feed 400g-1kg/100kg bodyweight per day in conjunction with free access to forage. Do not exceed 1kg/100kg bodyweight per day in total. Divide into at least 2-3 meals per day. Ensure a minimum intake of 2kg/100kg bodyweight of forage per day. Fresh drinking water must be available at all times. For use with target species only.

Informatie
Gekookte gerst en lijnzaad aangevuld met vitaminen en mineralen.
Rijk aan olie en eiwitten voor gewichtstoename, goede conditie en toplijn.
Eenvoudig te voederen ringen zonder knoeien, die droog of gedrenkt in water kunnen worden gevoerd voor een zeer smakelijke puree.
Wetenschappelijk uitgebalanceerd ter correctie van de natuurlijke onbalans van gerst, in tegenstelling tot traditionele purees.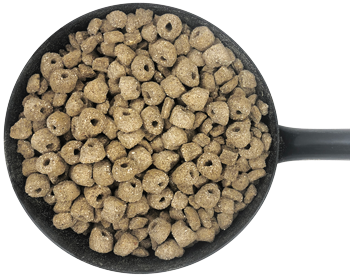 Information
Orge et graines de lin cuits supplémentés en vitamines et minéraux
Riche en huile et protéines pour prendre du poids, assurer une bonne condition physique et garantir un haut niveau de performance.
Anneaux faciles à administrer, sans gâchis, qui peuvent être administrés secs ou trempés pour former une purée très appétante.
Scientifiquement équilibré pour corriger les inégalités naturelles de l'orge, contrairement aux purées traditionnelles.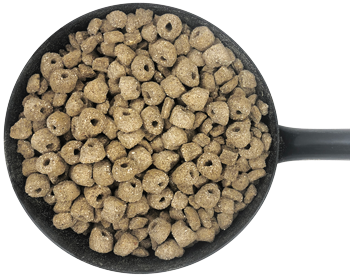 Information
Gegarte Gerste und Leinsamen, angereichert mit Vitaminen und Mineralstoffen
Hoher Öl- und Proteingehalt für Gewichtszunahme, Verfassung und Muskelaufbau.
Leicht und sauber zu fütternde Ringe, die trocken oder aufgeweicht als schmackhaftes Mash gefüttert werden können.
Wissenschaftlich ausgewogen, um – anders als traditionelles Mash – die natürlichen Unausgewogenheiten der Gerste zu korrigieren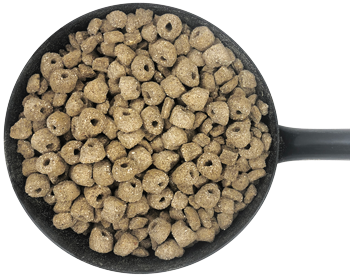 Información
Cebada y linaza cocidas, enriquecidas con vitaminas y minerales.
Alto contenido en aceite y proteínas para aumentar de peso, fomentar un estado físico óptimo y mejorar la línea superior.
Formato en aros que pueden administrarse secos o húmedos (en un puré de excelente sabor) para una administración sencilla y sin complicaciones.
Pienso equilibrado basado en estudios científicos que corrige los desequilibrios naturales que contienen los purés de cebada tradicionales.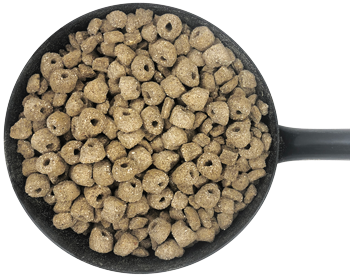 Voedingsrichtlijnen
Geef 400 g - 1 kg per 100 kg lichaamsgewicht per dag in combinatie met vrije toegang tot voer. Geef niet meer dan 1 kg per 100 kg lichaamsgewicht per dag in totaal. Verdeel dit over minimaal 2-3 porties per dag. Zorg voor een minimumconsumptie van 2kg per 100 kg lichaamsgewicht aan voer per dag. Er moet steeds vers drinkwater beschikbaar zijn. Alleen voor gebruik bij bepaalde soorten.
Directives d'alimentation
Administrer 400 g-1 kg/100 kg de poids corporel par jour, en complément d'un accès libre au fourrage. Ne pas dépasser 1 kg/100 kg de poids corporel par jour au total. Répartir en 2-3 repas par jour minimum. Garantir une consommation minimum de 2 kg/100 kg de poids corporel de fourrage par jour. De l'eau fraîche et potable doit toujours être disponible. À utiliser uniquement avec les espèces cibles.
Fütterungsrichtlinien
Die Tagesration beträgt 400 g - 1 kg/100 kg Körpergewicht bei freiem Zugang zu Raufutter. Gesamtmenge von 1 kg/100 kg Körpergewicht pro Tag nicht überschreiten. In mindestens 2 - 3 Mahlzeiten pro Tag aufteilen. Für die Aufnahme von mindestens 2 kg/100 kg Körpergewicht Raufutter pro Tag sorgen. Frisches Trinkwasser muss jederzeit zur Verfügung stehen. Nur für Pferde und Ponys.
Pautas de alimentación
Administrar 400g-1kg/100kg de peso corporal al día, además de acceso ilimitado a forraje. No superar los 1kg/100kg de peso corporal al día en total. Repartir en al menos 2-3 comidas al día. Garantizar una ingesta mínima de 2kg/100kg de peso corporal de forraje al día. El animal debe tener siempre agua potable limpia a su disposición. Solo para uso con especies elegidas como objetivo.