Information
Recipe free from cereal grains and molasses
Low calorie with combined starch and sugar below 10%
High fibre, palatable, and option to soak
Sole bucket feed with balancer built in
Extra Features:
HOOF SUPPORT - Biotin, Zinc, Methionine, Nettle, and Seaweed
IMMUNE SUPPORT - Vitamin E and QLC Natural Antioxidant Blend
DIGESTIVE SUPPORT - Probiotic Actisaf yeast
It is a great solution for those...
Wanting to give larger bucket feeds without excess calories

Feeding to maintain a healthy weight and reduce weight gain
Horses that struggle to eat a chaff product
Wanting to provide additional digestive, hoof and immune support
Needing to feed a low starch and sugar feed due to metabolic and weight issues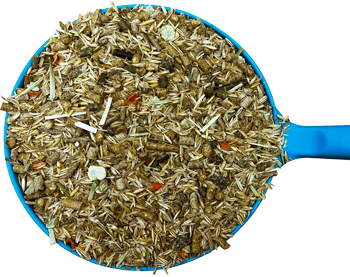 Feeding Guidelines
1 level Stubbs Scoop approximately contains: 1kg/2.2lbs

Feed 300-500g/100kg bodyweight per day in conjunction with free access to forage. Divide into at least 2-3 meals per day. Ensure a minimum intake of 2kg/100kg bodyweight of forage per day. Fresh drinking water must be available at all times.

*Since 1897, Blue Cross has been on a continuous mission to help sick, injured and homeless pets. No matter the type of furry friend – pets bring us so much joy and happiness, which is why at Blue Cross they want to give love back to the animals that give us so much love. Blue Cross help animals by providing low-cost veterinary care to people on means-tested benefits, a free Pet Bereavement Support Service, educational talks, behaviour training and rehoming services to help homeless pets find a forever home. Care doesn't just end when an animal is adopted – Blue Cross offers owners and pets continuous support, with their aim to create lifelong relationships. Blue Cross currently care for up to 40,000 pets a year – but this is not enough, no animal should endure homelessness, cruelty or inadequate healthcare. Blue Cross believes pets change lives, which is why they need your support.
Where an order or sale is made for a purchase of Dodson & Horrell's Slim Down product, 10p per order will be donated to Blue Cross.
Animals deserve a warm place to sleep and a loving family - to find out more about the work of the Blue Cross, click here.