The Cheltenham Festival is the Olympics of the jump racing world, and its superstar equine athletes will be ready to test themselves to the maximum during each thrilling race. Like all great performers, their bodies will need to rest, rebuild and strengthen afterwards – and there's no better to way to help than by giving them Dodson & Horrell's Regener8 Cubes.
Regener8 Cubes are specifically designed to support the performance and recovery of horses in training as Newmarket based racehorse trainer Rae Guest experienced. "Regener8 Cubes made it possible for my filly who kept tying up and on the verge of retiring unraced, to go on to run five times, winning three races on the trot," Guest has an envious list of multiple Group 1 wins notably with My Emma and Serious Attitude.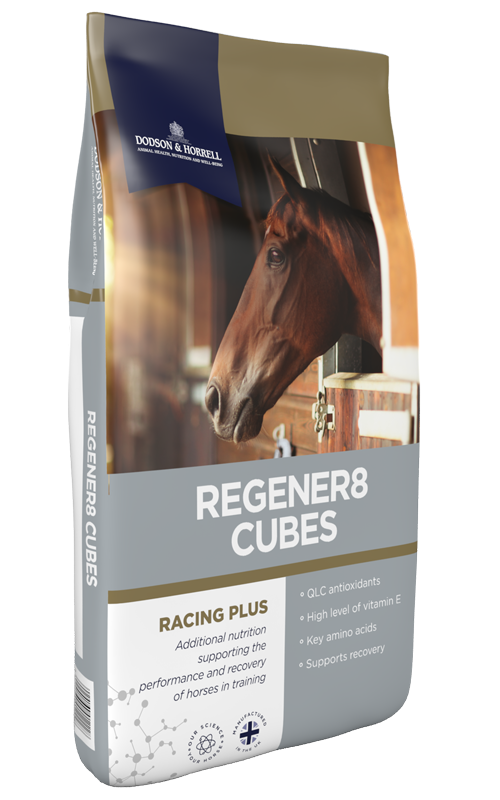 Regener8 contains QLC antioxidants to support antioxidant capacity and recovery, a high level of Vitamin E, Actisaf Yeast probiotic and FOS prebiotics to support hindgut health and recovery, and to assist fibre fermentation, nutrient uptake and key amino acids to support muscle development. Branched chain amino acids support muscle glycogen replenishment and muscle repair.
Zara Tindall, herself an Olympic silver medallist as well as former World and European champion, and now a Director of Cheltenham Racecourse, knows all about helping horses achieve their very best.
She says: "I use Regener8 to help the horses recover from hard work in preparation for their racing or eventing schedules. It really helps their muscles and bodies to recuperate following these sessions so that they come back feeling as good as new."
Dr Courtney Miller, Head of Technical at Dodson & Horrell, says: "Regener8 combines current industry research, ingredients that are bespoke to D&H, and well-established principles of feeding. Together these features create a product that is innovative and effective in supporting recovery. Most importantly, it is easy to incorporate into an existing feeding programme when it is needed, without causing the disruption of a full diet changeover."
"It is the only product of its kind which has created a lot of excitement in the racing world."