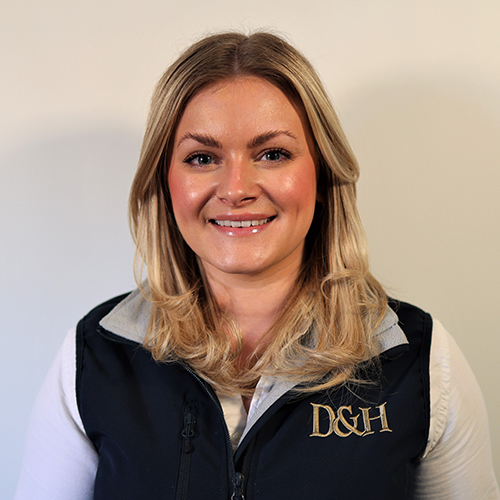 Louise Scott
Product Manager
Louise joined D&H in November 2022 from the agricultural industry after studying for an MSc in nutrition at Harper Adams University. However, horses have been a passion since she first sat on a pony at 18months old and the addiction began! She has previously spent time working on a professional showing yard as well as dressage and thoroughbred studs. Prior to doing her MSc she worked in the equine feed and supplement industry following her degree in BSc (Hons) equine management at The Royal Agricultural University. Whilst studying she developed a keen interest in nutrition and how important it is for maintaining horse health. As Product Manager, Louise is looking forward to working on the development of new feeds.

Favourite D&H feed and why?
Elite Sport Muesli is a great option for horses in hard work and out competing but prone to gastric ulceration. It's a performance level oat grain free feed which is lower in starch, has digestive support in the form of pre and probiotics, added antioxidants from our QLC blend and added vitamin E.
Top feeding tip
When considering feed for your horse don't forget that grazing and forage make up the majority of what your horse eats. It's easy to focus on what's in the bucket, especially when looking at energy and sugar levels, but don't forget to look at what is in the forage too! Dodson & Horrell offer a forage analysis service through the online store which can help to give a better overall picture of your horse's diet.