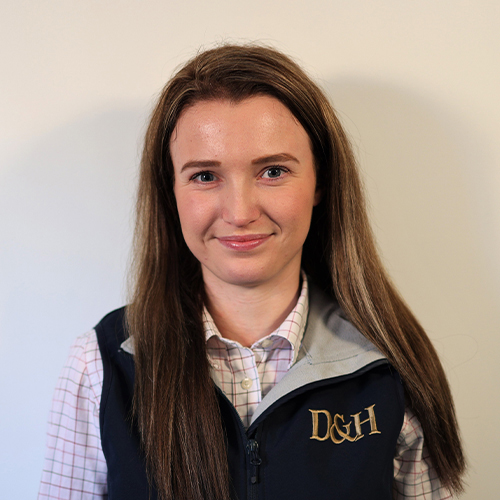 Kaylea Russell
Nutritional Advisor on Helpline
Kaylea joined D&H in January 2023 after many years of practical experience. Straight after completing her A-levels in Biology, Chemistry and History; she was eager to get hands on with her equine career. She started out on a National Hunt yard, and has since worked on a Grand Prix dressage yard, Event yard, Thoroughbred stud for a season of yearling prep and foaling, polo yard and most recently managed a professional yard of performance horses for 3 seasons. Kaylea has also worked in the equine feed industry previously. Throughout her equine career she has always had a passion for nutrition and how it differs between disciplines. With her current role as a Nutritional Advisor, she is on hand to answer any nutritional queries and support those seeking advice through our LiveChat, Email, Facebook or Instagram.

Favourite D&H feed and why?
My favourite D&H product is our Sixteen Plus Cubes. This is a conditioning feed specially formulated to support veteran horse health. It contains good quality protein and loads of added support supplements to aid them whilst still in work. My veteran absolutely loves the product and always looks great!
Top feeding tip
Feeding doesn't need to be complicated! Always ensure the horse has enough fibre, then use quality concentrates to ensure the correct support that the individual horse needs.