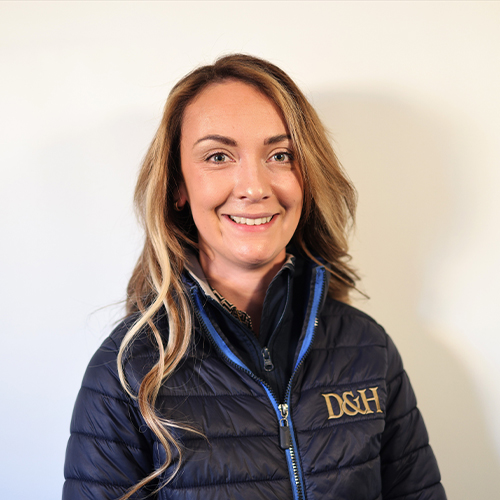 Hannah Routledge
Key Account Manager
After gaining a first class degree in Equine Psychology and Sports Science I was fortunate enough to spend a few years working within the racing industry in Newmarket prior to joining Dodson and Horrell. I am now the Key Account Manager for the North and Scotland. Animals have always been a large part of my life. I purchased my first horse at 19 who was an ex-racehorse and now I am lucky enough to have a youngster called Mylo and eventer Dublin. Both horses are owned with the intention to compete at various levels from riding club to British Eventing. Alongside the horses I also own two dogs (a Labrador and cocker spaniel) and a very opinionated cat.
My job enables me to travel the country seeing a variety of horses and being able to see the improvement and results slight changes in feeding can do has to be the most rewarding part.
Favourite D&H feed and why?
One of my favourite products has to be Suregrow. To know by feeding this product you can cater to such a variety of horses (including stallions, mares and youngstock) to such a high level of nutrition I feel it's a key product to have on any stud. In particular seeing first hand youngsters being provided the right nutrition for controlled growth and development.
Top Feeding Tip
Fibre, fibre, fibre. Ensuring all diets have some form of fibre in them is key be this a fibre cube, chaff etc.