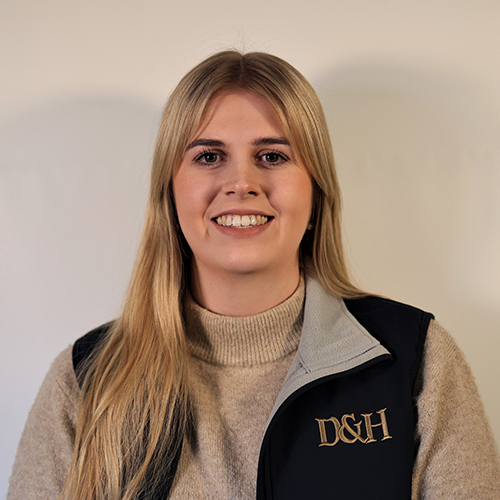 Emma Nissler BSc (Hons)
Nutritional Manager
Emma joined D&H in 2021 after completing a degree in BSc (Hons) Equine Therapy and Rehabilitation at Bishop Burton. During her degree her passion for nutrition grew, highlighting the importance of nutrition within equine rehabilitation and the link between both sides of the industry. She has previously had her own horses, starting riding from an early age, experiencing a variety of horses and management techniques. Prior to university, she spent 2 years working in several different small animal veterinary practices, developing her understanding of clinical care. Within her current role as a Nutritional Manager, Emma is on hand to answer any nutritional queries and provide support to those seeking advice through our LiveChat, Email, Facebook or Instagram.

Favourite D&H feed and why?
My favourite D&H product is our new Fibre Up! It is a great all-in-one conditioning fibre, suitable for a variety of horses, from youngsters coming into work to sharp horses needing cool condition. I love that it's fully balanced and fibre-based with loads of added support supplements, and it smells amazing (always a bonus)!
Top feeding tip
My top tip is not to be afraid of starch and sugar! Low starch and sugar feeding is recommended to be no more than 1 gram (g) of starch + sugar per kilogram (kg) of bodyweight (BW) per meal. For a 500kg horse to exceed this, they would need to consume more than 500g per meal. A feed may have a starch content of 25% and a feeding rate of 100g/100kg of BW per day, meaning a 500kg horse would need 500g of the product per day. This gives them only 125g of starch per day, which is way below the recommended low starch feeding!
It's always best to double check feeding rates when starch and sugar are a concern – if you are having trouble with the calculations, please do ask us! We are here to help!