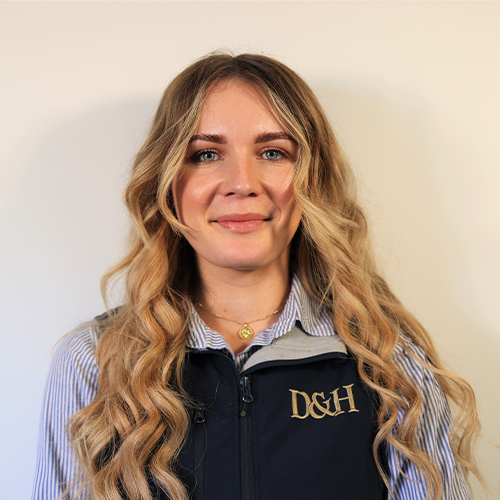 Emma Keen
Key Account Manager
Following graduation from my BSc in Equine Science back in 2016, I gained Sales experience in the food industry sector before joining D&H in 2018. During my time at D&H I have worked in multiple departments across the business which has led me to my current role of Key Account Manager. Horses have always played a large part in my life, I began riding at 3 years of age – competing in multiple disciplines, and never missing out on a Pony Club activity, no matter the circumstance (my lucky parents)! I always knew animals would feature in my career later in life and I am ecstatic to be able to combine my hobby (obsession) with my working life. I currently have a 24-year-old Standardbred Oscar, who seemingly believes he is still 4 and therefore still enjoys some unaffiliated competing and drag hunting. I also own 2 dogs, who I think believe they are ponies and are forever pinching horse feed and carrots from the tack room – Walter the Golden Retriever and Winnie the Fox Red Lab.
My current role at D&H excites me as it gives me the opportunity to work with a variety of businesses and individuals across our industry and to assist in growing a brand with products I truly believe in!
Favourite D&H feed and why?
One of my favourite products would be Classic Fibre Cubes! They are fully balanced and can cater to a wide range of feeding needs. As I have mentioned, I do have an older horse who does not lack in energy, and I find Classic Fibre Cubes are the perfect cube to soak down into a softer consistency, he has unfortunately always suffered with poor dentition and soft Classic Fibre Cubes are super easy for him to gobble up!