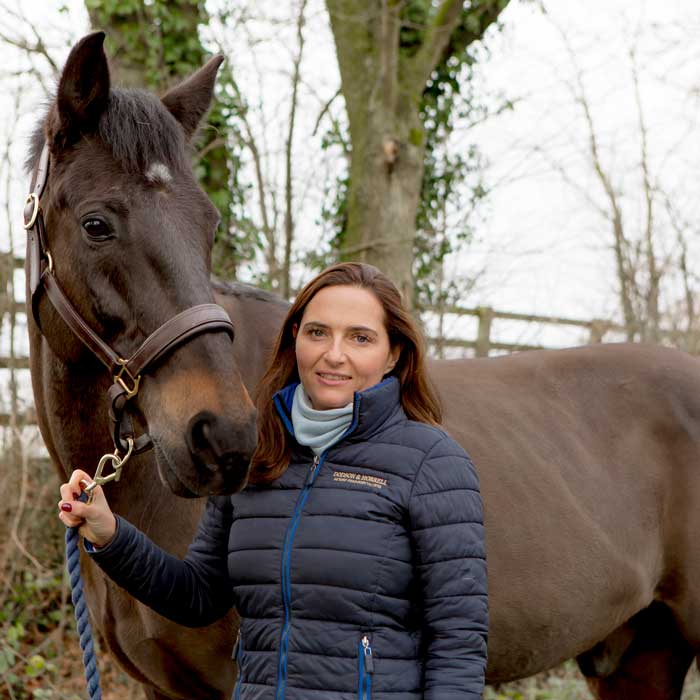 Dr Judith Maxwell
MRCVS BVSc BSc (hons)Performance Horse Specialist (International)
Dr Judith Maxwell MRCVS BVSc BSc (hons); International Veterinary and Nutritional Advisor. Having gained a Veterinary Science degree from Liverpool University, once graduated Judith worked in a selection of equine practices. Judith is based in the Middle East and her focus will be to work closely with high profile individuals and training facilities in the region and further afield. Improving their potential by enhancing the nutritional performance of the animals under her care.
Favourite Dodson & Horrell feed and why? – Convalescence Diet
My favourite feed is Convalescence Diet, as everyone has to box rest a horse at one point or other in their lives, and it is great to know we have a product that will keep weight on without tying up or leaving them dancing from the ceiling.
Top Feeding Tip – My favourite feeding tip for all owners is to feed your horse fibre, it is vital to improve your horses chew rate for all sorts of reasons and therefore chaff of any kind is all good in the feed bowl.
What product would you recommend every store to stock? – Regener8
Regener8 is unique on the market and is the ultimate supplement to help support any horse that is training hard. There is a high Vitamin E content in each scoop, which will help reduce the oxidative stress that happens when horses are training and competing at the higher levels. The Vitamin E is also boosted by the increased levels of QLC (Quality Life Care) in this product, which are a natural source of antioxidants in their own right but when combined with vitamin E, it will help keep the plasma levels higher for longer.
In conjunction with this, Regener8 contains branched chain amino acids, or BCAA for short. These branched chain amino acids have been proven in several studies to help with DOMS (delayed onset muscle soreness) and therefore greater improve the quality of recovery of horses that are putting themselves under high intensity exercise training. These amino acid proteins are vital for the production and storage of glycogen in the liver and muscle. When the horse has high levels of glycogen in the muscles or is able to replace it quickly and easily this will help to improve the muscle condition and allow the recovery and overall performance of the horse to be improved.
Finally, Regener8 contains high levels of gut support with high concentrations of Actisaf yeast and prebiotic FOS will help maintain the pH in the hind gut and therefore improve the overall digestion process that takes place in the hindgut. With effective production of volatile fatty acids from the hindgut, this will further improve the livers ability to manufacture glycogen and therefore vital energy source for the muscle in hard work. Overall it is superb addition to any diet, so you can enhance the horse's ability to recover by simply adding a scoop a day to the horse's diet.
I love this product as there is nothing else out in the market that can help with recovery and support a horse through intense training that is as easy to use contains great levels of branch chain amino acids and vitamin E.