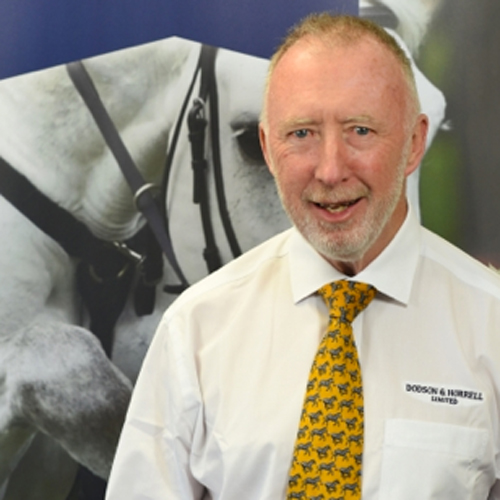 Chris Gordon
Performance Horse Specialist
Chris Gordon, Performance Horse Specialist has worked for Dodson & Horrell for nearly 30 years and is currently chairman of the British Equestrian Trade Association (BETA) Feed Committee. He has had a lifetime of involvement with horses and has competed in a variety of equestrian disciplines, with a particular interest in racing and point to point. In 2017 The British Equestrian Trade Association awarded the BETA Lifetime Achievement Award to Chris Gordon, a leading light in the field of equine nutrition.
Favourite Dodson & Horrell feed and why?
Fibre Performance is a favourite of mine and is a great fibre based muesli that can be fed to any horse in medium or hard work. It combines a muesli with long fibre forage in the form of dried grass and alfalfa providing slow release energy whilst promoting chewing and therefore saliva production to balance the acid produced in the stomach. It can be fed straight from the bag and can replace feeding a muesli plus a chaff which simplifies feeding and is one less bag in the feed room. Alternatively, it can be added to a muesli or cube feed as a high energy chaff providing added minerals and vitamins. The addition of herbs will normally tempt the fussiest of feeders and I like to add some hot water to Fibre Performance in the evening feed after hard work on a cold day and smell those herbs.
Top Feeding Tip
Take a small feed with you when competing – often there is time after competing (hopefully waiting for prize giving) when your horse has recovered and has had a drink to give a small feed before travelling home and is an opportune time to add some electrolytes if the horse has sweated to reduce the risk of dehydration. Don't forget if it is a long journey to stop and offer a drink on the way home. If your horse has a tendency not to drink when at a competition add some wet unmolassed Kwik Beet to the feed to improve water intake.
What product would you recommend every store to stock?
Vital and Ultimate Balancer
Vital is one of my favourite products as it contains all the ingredients for both performance and recovery including;
High levels of antioxidant minerals and vitamins such as selenium and vitamin E working in conjunction with the natural antioxidant QLC.
Adequate levels of starch to optimize replenishment of glycogen storage levels in the muscles following fast work in training or racing/competing.
Micronutrients and digestive additives at levels to support performance and the immune system which is often compromised in very fit athletes (human and equine).
Every store should also stock Ultimate Balancer – the balancer has the most comprehensive levels of nutrients and additives to support digestion, hoof, recovery for all types of horses and ponies from the overweight, prone to laminitis pony to the top-level performance horse requiring a top up of micronutrients. Why stock dozens of different balancers which are expensive if they go past their best before date when Ultimate Balancer contains all the ingredients required for every eventuality at a competitive price.