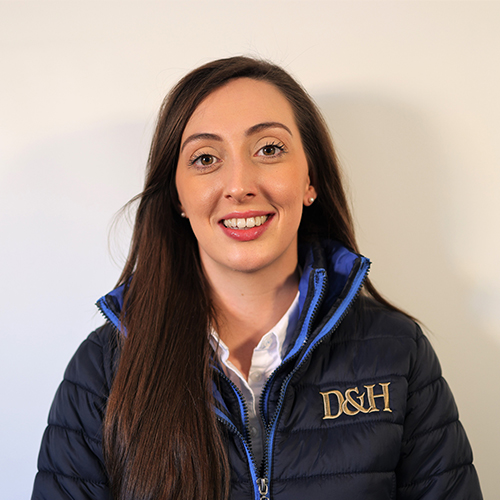 Cherith Wilson
Area Sales Manager (South East)
My passion for horses began growing up in Northern Ireland, competing in many ridden disciplines as well as carriage driving with my Shetland and Welsh ponies. Before moving to England to complete my BSc in Equine Science at Hartpury University I purchased my Irish Sport Horse Ollie who I competed show jumping, dressage and British Eventing.
Whilst completing my Masters in Equine Science I had the privilege of working at the Royal Mews in London. I was able to further pursue my passion for training horses both ridden and driven as well as learning the new skill of riding postillion. In 2022 I had the honour of taking part in the Queens Platinum jubilee celebrations before taking on my new role at Dodson & Horrell.
My role at Dodson and Horrell enables me to pursue my love of all things equine nutrition by travelling the country working with owners to enhance the welfare and performance of their horses and ponies.
Favourite D&H feed and why?

My favourite D&H product is Elite Sport Muesli its low starch, grain free, high oil recipe makes it a great source of energy without the fizz, especially for horses and ponies prone to gastric ulcers.
Its full hindgut support package promotes a healthy hindgut environment which is key for digestion and overall health and wellbeing.
Having a fully balanced feed is also great as it supports simple feeding practices.