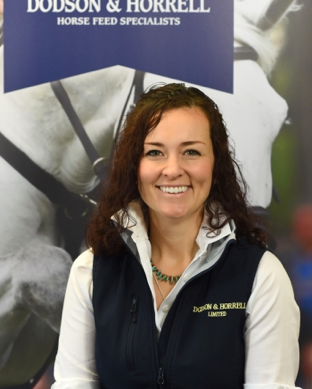 Dr Courtney Miller BS, BVetMed, MRCVS
Veterinary and Technical Nutrition Manager
Courtney started riding shortly after walking, and was lucky to be able to spend most of her childhood show jumping across America. She went on to obtain a Zoology degree from Michigan State University and a Veterinary degree from the Royal Veterinary College. She completed a poor performance, surgery, and rehabilitation specific internship in a racing epicentre in America after graduation, followed by several subsequent years in small animal and equine clinical practice. Preventative medicine and nutrition were always a heavy focus in her clinical consults, which led her to join Dodson & Horrell upon her return to the UK. Her role involves support and management of the nutritional team, equine category and product development, technical support, education, and outreach. In work she's always reading, attending conferences, and is planning to study for board certification in veterinary nutrition, in order to ensure that both clients and company remain as up to date on industry news and advances as possible. Outside of work she is keen on sport and her amazing Blue Heeler cross Border Collie, Bindi.
Favourite Dodson & Horrell feed and why? – Fibre Fusion - It has a great spec with rapeseed oil, a blend of high calcium legumes and fibre, added digestive complex, probiotics and yeast, whilst remaining low in starch! Also, it's highly palatable, and appeals to horses of all ages in all disciplines, from young, picky thoroughbreds straight through to elderly pasture friends.
Top Feeding Tip – For a little bit of extra energy, protein, and some added shine, use Build & Glow! It works as a great, low inclusion, top up to a feeding programme, especially in the winter, in the later part of show season, for sales prep, or towards the end of the racing year.
What product would you recommend every store to stock? –Equilac. It is a tried, tested, very well tolerated (and loved!) milk replacer. Also, when you need a milk replacer, you generally NEED IT NOW.