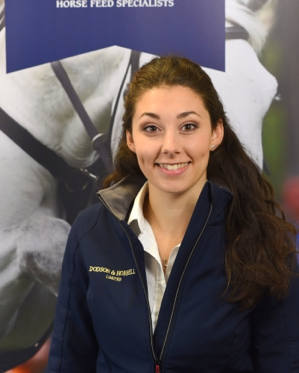 Charlotte Wilkinson BSc (Hons), ANutr
Thoroughbred and Performance Horse Specialist
Charlotte Wilkinson BSc (Hons), ANutr graduated in Animal Science in 2017 and joined the Dodson & Horrell Team in July where she keenly and expertly shares her nutritional and product knowledge via Dodson & Horrell's live Helpline. Getting nutrition right is Charlotte's drive and she is fascinated by what can be achieved through feeding the right nutrients.
Favourite Dodson & Horrell feed and why? - Staypower Muesli/Cubes- suits so may horses in different disciplines, and I find that it provides horses with enough power for the job whilst being able to remain controllable!
Top Feeding Tip – HORSES DON'T EAT PERCENTAGES. It is always worth bearing in mind the total intake your horse will eat over the whole day to really calculate what you are feeding, and it might help you make the right choice when comparing new feeds.
What product would you recommend every store to stock? – Kwik Beet as it is an easily digestible fibre source suitable for all horses. It is a great way of providing additional calories whilst remaining very low in starch and sugar. Also great for horses that struggle to chew, or where you would like to encourage more water intake.
With so much strength and depth within Dodson & Horrell's nutritional team retailers and consumers can get access to the very latest thinking and advice on all sorts of equine nutrition questions. If you or one of your customers have a question on a Dodson & Horrell product or need any advice on the very best feeding regime for an individual horse or problem, do not hesitate to contact the Dodson & Horrell Nutritional Helpline on Tel: +44 (0) 845 345 2627 where a member of the expert nutritional team will be able to help you directly. Alternatively, retailers can contact their Dodson & Horrell Area Sales manager for advice. Also visit www.dodsonandhorrell.com for more information.