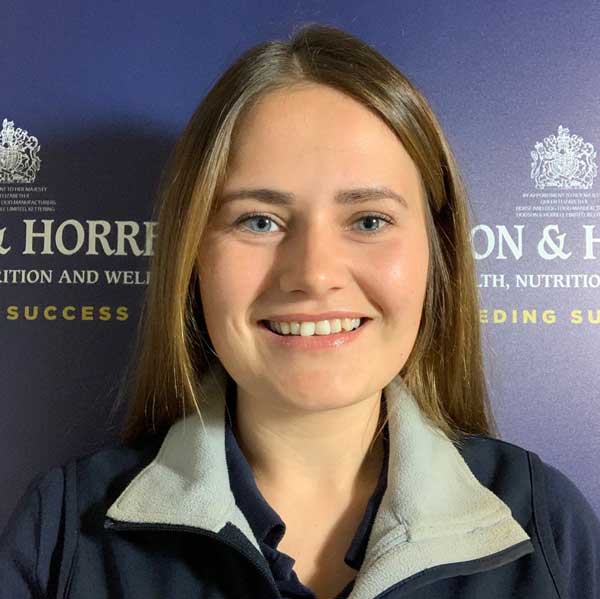 Amy Nash
Nutritional Advisor
Amy Nash BSc (Hons) has competed her horses nationally in Dressage at Premier league level, County-level showing and worked on her family's stud growing up.
My favourite Dodson and Horrell feed is Elite Sport Muesli. Elite Sport Muesli is a great versatile feed, this feed not only provides the energy and nutrients for a performance horse but also supports the gut and has allowed my competition horse to gain the condition he needed to build muscle and topline. Elite Sport Muesli is a delight to feed, Puff was a very leggy young horse, making building condition and muscle feel almost impossible. I also had to the dilemma of his excitable temperament, so finding a feed that wasn't going to make him more excitable, give him a good calorie boost but also give him the digestive support he needed for a highly strung temperament and delicate digestive system was tricky; Elite Sport Muesli just worked. Additionally, Elite Sport Muesli is fully balanced which saves me loads of time caring for his nutritional needs and having a full-time job.
Top feeding tip - My top feeding tip is to feed plenty of fibre. Horses typically take most of their calories from their daily forage intake, so if in doubt, check your forage feeding first. Quality of forage, the quantity of forage and the amount of essential fibre in the diet can make a considerable difference to your horse.
What product would you recommend every store to stock? - I would recommend every store stock D&H Electrolytes. Electrolytes are essential, equally for a competition horse or pony with a busy training and competition schedule, but also the active leisure horse. Feeding electrolytes is often forgotten, but these are essential for almost all bodily functions so including these in your feeds is a good way of supporting performance.